What can you do in the typically sun-drenched paradise of Byron Bay when the weather refuses to play nice? We've compiled the ultimate rainy-day list of wet weather ideas to keep you entertained.
So you've saved up your annual leave, booked a beachside apartment, packed your swimmers (and not much else) and even organised a private transfer from the airport to ensure a hassle-free arrival. And then it starts to rain. Huh? This was NOT in the brochure!
Cheer up, slow down, chill out – as the unofficial Byron slogan goes – we've compiled six of the best things to do when it's raining in Byron Bay…
GO SHOPPING. Well, why not? Byron has a vibrant retail culture, with loads of local brands that are beloved around the globe, including fashion labels Spell & The Gypsy Collective, Rowie, Afends,  Auguste the Label and Also check out some of the vintage surf shops, and this great guide to vintage shopping in Byron Bay. There are some shops that blend lifestyle/interiors with fashion, such as Ahoy Trader, Hendrix & Harlow,Hope & May and for those who have some serious dollars to drop, there's Island Luxe Tribe. If you're in the market for gifts, kids' decor or amazing prints, visit Love Mae's HQ and studio or Pop & Scott in the Byron Industrial Estate.
CATCH A TRAIN. OK this may not sound that exciting if you're from the city and commute by rail everyday, but this is a train ride with a difference. The world's first solar-powered train (built in 1949) is now back in operation thanks to The Byron Bay Railroad Company, taking passengers from the town's centre to North Beach station at Sunrise (near the Industrial Estate and Elements of Byron Resort). Now running a return shuttle on the hour, seven days a week, it's a great way to see some countryside – have a quick cocktail at Elements and hop back on for the return 10-minute ride.
GO TO THE MOVIES. The Pighouse Flicks is a lounge cinema with a difference. Seats are custom-designed couches, the atmosphere relaxed and the selection of films mainly arthouse, classic and foreign. Located within the Byron Bay Brewery complex, you can pop in after the movie for locally brewed craft beer and delicious food.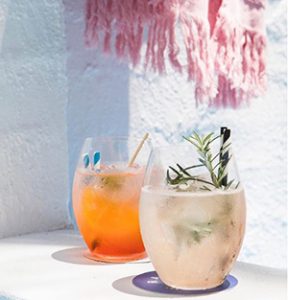 TAKE A GIN DISTILLERY TOUR. The Cape Byron Distillery, located on the Brook's family macadamia orchard in the Byron hinterland, is the home of Brookie's Gin; a locally loved drop. On Fridays, Saturdays and Sundays, the passionate gin makers operate Distillery Tours and Tastings at the cellar door, taking you through the process of sourcing botanicals from the surrounding rainforest and sharing how the spirit is produced and perfected – and obviously you get to throw back a few gins as part of the tour. Bookings essential.
GET PAMPERED. One thing Byron is not short on is quality massage therapists, healers, spas and self-help gurus. Looking for Equine Assisted Psychotherapy, Sand Therapy or Intimacy Coaching? Yep, you can find it all here! Whether you're in the mood for muscle magic or just a facial, you'll find a qualified therapist to suit. TripAdvisor's 10 Best Spas & Wellness Centres in Byron Bay list is comprehensive and review-driven, or head to the locally curated Byron Body & Soul Guide.
FLY ON A TRAPEZE. Byron Circus Arts, located in the Byron Industrial Estate a few minutes out of the town centre, offers 90-minute high-flying trapeze classes for all levels of ability with no previous experience required. Beginning on the low practice bar, you are taught basic trapeze positions. In the safety of a harness, you will then progress to the 10m flying trapeze ready for your first swing. Weeeeeee!
Don't forget, every visit to Byron Bay should start and end with a seamless airport transfer in a luxury vehicle, chauffeured by a professional – it's affordable and takes the hassle out of your airport experience.